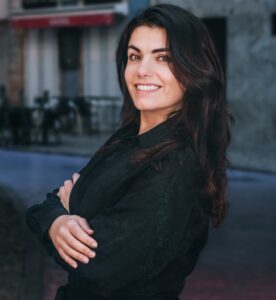 Read our recent interview with Ana Santiago – a mentor, communications expert and entrepreneur, who shared with us some priceless advice about communication and her opinion about Volvero!
What is your experience in entrepreneurship?
My experience in start-up business comes from my previous job as director of communications of Startup Lisboa, a lead incubator in Portugal. In seven years I saw so many kinds of businesses, some good and bad practices, success and failures. Mainly I was mentoring founders in communications, but I also learned a lot about their business models and the way they were doing things. Currently, I continue sharing my experience and expertise with startups while collaborating with a PR agency – Doctor Spin.
I am also on a way to found my own company, because when you work with entrepreneurs, at some point you want to do it again. I was a little bit traumatized by my experience in business in the late 90s. I was too young, twenty-something when I decided to go into the retail business and to open an optician store. It was OK in the first year but then we made many mistakes and we didn't know what to do with the business. I learned a lot from my failure, which is good in a way. 
Partly, It's a common problem in Europe. In the United States, they have an entrepreneurial mindset. They start as young kids selling lemonade and things are not like that in Portugal, in Europe in general, it's difficult for us to deal with failure. Luckily, the situation is changing, but when I opened my first business, failure was a bad thing. We didn't know what a start-up is, accelerator, etc. We were doing business in the 'traditional' way: we would go to the bank, ask for a loan, and that was it. But when I started helping start-ups as a director of communications it was really a turning point for me because I realized there is another way of doing business and it is OK to fail. And so it changed my life.
"Communication is not only a post on website, blog or social media. It's what happens when you go to a party or a business event and people ask you what you are doing."
Tell us more about your business, at what stage are you now?

I believe that when you are launching a business, you must be completely focused on that, so I hope my schedule will allow me to devote more time to it in the future. The pandemic had its influence as well because my business is both physical and digital. I'm going to create a working and retail space for secondhand clothes and upcycling. I see a lot of opportunities here. So far, I've been studying the market, talking to people, and creating a community, because when you are launching something, you must talk with your potential clients first. Otherwise, you may create something that is not useful. In the past years, I've changed the business model and my perspective because the world is changing, as well as people and their needs.
"Mark Cuban once said: one of the most stupid things that a startup can do is to hire a PR agency and spend money on it ."
Based on your mentoring practice, what is the most common communication problem that start-ups are having?
Well, we are talking about small teams, just one, two, three people sometimes. And even though they find communication a very important aspect, they don't have time for it. They also tend to say they don't know how to do it and they don't have money to hire a communication team to outsource that kind of thing. I've seen teams that forget to communicate their businesses at all and sometimes it starts with themselves. 
See, when you are in business or even if you don't have a business, you still have your personal brand, that you should introduce to the world. Because when you create your personal audience, you have people who are already there to listen to what you have to say and what you have to sell. 
I've met founders that don't communicate because they don't like to be on social media, others because they don't have the communication skills and then it's even more difficult for them to promote their business. So it's always easier when the founder already has their own channels, their digital footprint, and basic skills and knowledge. 
Mark Cuban once said something that had really upset all the PR agencies. He said that one of the most stupid things that a startup can do is to hire a PR agency and spend money on it. But I totally understand what he's saying. Every time I give a mentoring session or a workshop, I show this slide with his quote. I think what he meant is when you are starting a company you don't have money to spend on the PR agency, and you also must develop your own communication skills because no one knows more about your business than you do. Even if you have money to hire a PR team, you must know what you are going to communicate to provide them with the information and the briefing. 
As an agency, we sometimes have clients that don't know what to say and we cannot guess it. We can suggest and help but the key message of the brand, the unique selling proposition must be clear.
Moreover, one should note that communication is not only a post on website, blog or social media. It's what happens when you go to a party or a business event and people ask you what you are doing. 
It is also how you are pitching your business. I see a lot of pitch decks that don't have the right words. Often founders complicate too much. Especially when it comes to tech star-ups, they focus on the features of the product and less on the benefits. They think they are talking to a team of engineers but most of the investors and media don't care about that. They just want to know how the product is going to improve their lives.
So communication is everything and founders should work on that, find an incubator, accelerator, or some people that can help. They should have someone in the team to work on that because content produced in-house is always better than the outsourced; even if you are going to hire an agency in the future, you always have to have your content in it.
By the way, Volvero is an exception. You are producing content that is really interesting for your audience, it is inspirational and useful. Good content is always inspirational or useful, that's the only thing you have to know. Of course, it is time-consuming, but you should integrate that into your daily schedule. If you find time to work with investors, develop your product, to organize your accountability, you will find time to write.
"Real innovation is not only about technologies but in how you connect with your customers."
Thank you for your professional feedback, Ana! We appreciate it. And what is your opinion about Volvero in general?

I think it's a good idea, but I have to try it to have an insight. Anyway, I am positive about it because it is really going to solve someone's problem. People will always want something that's going to facilitate their lives and help them save money. Then, of course, it is not just about the idea, it's about execution and how you are going to innovate in your customer relationship. 
I think real innovation is not only about technologies but in how you connect with your customers. This is what really makes a difference for me when I buy or use a product.
Recently I have bought a pillow from one company. Their website was very easy to navigate, the layout was perfect, and when I had a question, they answered me in two minutes and solved my problem in five minutes. The pillow was delivered in two days and they gave me 30 days to test it. Since last week, I already recommended the service to a lot of people, and they didn't pay me for that. So you have to keep in mind that all your customers are your influencers. Remember that and work on your customer relationship before you think about spending money on hiring influencers (which is not bad at all if you have money to do that). Even if you are not perfect right away, be nice to your customers; if they see that you are trying to solve their problems, they will commit to you. And that's the best PR you can have, the best communication to have is when your customers are recommending you. 
Coming back to Volvero, It's useful and adapted to our reality. People are searching for new ways of mobility, and sharing economy is a great help. It is not new, but it is still a thing. People don't need to own things to live an experience.
That's all from Ana, very insightful!